Area rugs don't get as much attention and care as they should get. Layering rugs of multiple sizes, shapes, colors, and materials add inviting, appealing effects and create warmth and cozy vibes to floors. Black and White Area Rugs are the perfect start, as they can define an area and be laid underneath and give a trendy look to the house. But for a long-lasting one, you can go with hand-woven or silk material as it lasts for years to take good care of it and give your home more warm and cozy vibes.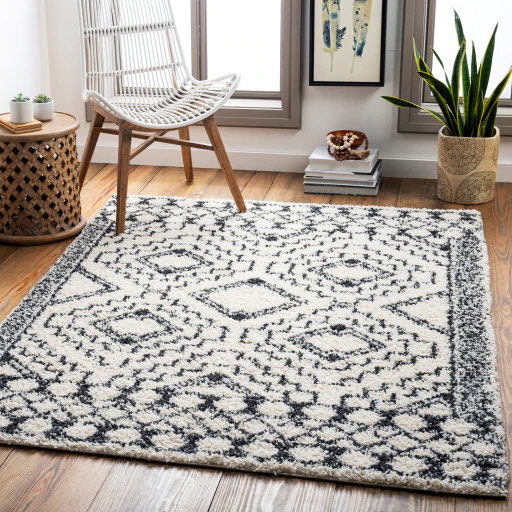 Anchor Your Room
Area rugs help anchor your room and the furniture in it, supporting a cozy, comfortable, and welcoming space. You can use them in any room to create a unified design, add texture, and even add warmth from floorings like tile and wood.
Reduce Noise
If you have a lot of hardwood and tile, it can quickly get loud between shoes, footsteps, pets, and everyday life. Area rugs add design elements to a room and help reduce the noise produced from non carpeted flooring.
Add Visual Pathways and Zones
Suppose you have a massive open space, such as an open floor plan with a division between a kitchen and living room; area rugs are an excellent way to create that sense of zone between spaces.
Add Texture and Character
Adding an area rug can bring texture and character to any room quickly. From different patterns to bright, bold colors, they can soon become the main point and hold up the entire room together.
5 Design Tips for Area Rugs:
1. Colors don't require to match. When choosing an area rug, try to match an existing color in the room or stick with a similar color. You don't need to match it precisely. So if it has a red, stick with red color. Don't try to go for any other color.
2. Size matters a lot. As mentioned before, you dont want your furniture to looking like it is floating or making your room look odd. Most people get the wrong size area rug, and it is usually too compact. Make sure the furniture can sit appropriately on the carpet.
3. Complement with color every time. The color of your rugs can warm your room as well as your furniture, and warmer colors can complement woods and metals used in your other furniture. Darker and bolder colors can make objects look colder and smaller, while lighter colors can make them appear larger and spacious.
4. Understand the material and care it will need. Wool rugs are popular, but synthetic silk and other options are available in the market and online.
5. It is essential to know how to place area rugs in every room in addition to size. For a bedroom, the most preferred placement is under the bed. For a dining room, you will want the rug centered under the table and enough rug that when chairs are pulled out, they still sit on the carpet to ignore catching on them. Shop Burke Decor for black and white area rugs for your home, browse this website
Make your home look more comfortable, warm, and elegant by displaying rugs that will define the room and make your flooring look ravishing.
Benefits Of Adding Black And White Area Rugs